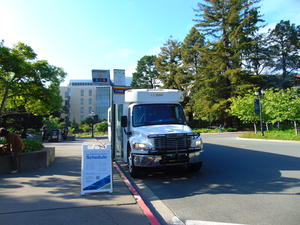 Download the brochure for more information
The Davis–Berkeley Shuttle provides transportation between the UC Davis and UC Berkeley campuses for faculty, staff and registered students. The shuttle service runs year-round, seven days a week, with the exception of some holidays. Buses are equipped with wifi and bike racks (for two bikes, first-come, first-served).
How much does it cost? 
$15. Reservations and Purchases can be made online
How frequently do the BerkBuses run?
BerkBus operates with two round trips during the weekdays, One morning trip on Saturdays, and One afternoon trip on Sunday.
Where can I board the BerkBus?
Board the BerkBus at the West Crescent, the same location where you board FlixBuses.