Pay By Phone Parking
Instruction
A convenient alternative to paying at the meter and includes the option to receive a text message reminder before your parking expires. You can even extend your parking session from anywhere. 
Here's how Pay By Phone works
Smartphone users can enter m.paybyphone.com

(link is external)

 on their browser or download the iPhone

(link is external)

/Android

(link is external)

/Blackberry

(link is external)

 app. Or call 1-866-234-7275.
Enter Location # posted on PayByPhone signage. (See full list of location codes below.)
Enter desired parking time.
Look for these signs near parking meters: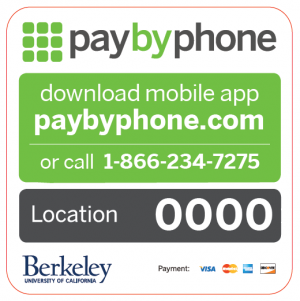 Sign up for a free PayByPhone account 1 of 3 ways:
Mobile: m.paybyphone.com(link is external), iPhone(link is external)/Android(link is external)/Blackberry(link is external)  apps.
Online:  www.paybyphone.com(link is external)
Call: 1-866-234-7275
Provide the following information:
Mobile phone number
Credit Card number (VISA, MasterCard, AM/EX, Discover)
License plate number
Your details are saved and automatically recognized each time you pay by phone.
Important things to remember:
Parking costs are automatically charged to the credit card associated with your account.
You can receive optional text message alerts when your session is about to expire (carrier rates apply).
You are limited to the maximum parking duration permitted under local area parking restrictions.
By-law enforcement officers have access to a real-time list of who has paid by phone
Where can I park and PayByPhone?
At most UC Berkeley public parking lots and garages. Look for Paybyphone signs near pay stations and surrounding areas.
Parking restrictions:
No public parking 5am-5pm, M-F at most lots, see signs for details.
What are the Benefits?
No need for cash or coins
Text message reminders
Extend your time from anywhere by phone
View & print parking receipts online
Easy to use mobile app
Pay By Phone Parking
| Pay By Phone UC Berkeley Location | Location Code |
| --- | --- |
| Pay By Phone UC Berkeley Location | Location Code |
| --- | --- |
| 4th Street | 9403 |
| Bancroft Fulton East and Bancroft Fulton West | 9413 |
| Bancroft Structure | 9414 |
| Banway Lot | 9420 |
| Berkeley Way Lot 1 and Berkeley Way Lot 2 | 9424 |
| Boalt Lot | 9428 |
| Botanical Garden Lot | 9431 |
| Bowles Lot | 9441 |
| CKC Northwest | 9500 |
| Clark Kerr Southwest Lot | 9452 |
| Clark Kerr Sport Lane | 9454 |
| Dana Durant Lot | 9458 |
| Dwinelle Lot | 9462 |
| East Lot | 9485 |
| Ellsworth Structure | 9464 |
| Foothill Lot | 9469 |
| Genetics | 9475 |
| Golden Bear Lot | 9478 |
| Gridiron Way | 9479 |
| LHS Plaza (2 machines) | 9485 |
| Lower Hearst (3 machines) | 9480 |
| MLK | 9483 |
| RSF Garage | 9484 |
| Terrace 1 | 9485 |
| Terrace 2 | 9485 |
| Terrace 3 | 9485 |
| Underhill 1 and Underhill 2 | 9472 |
| University Hall West Lot | 9486 |
| Upper Hearst L1/L3 (2 machines) | 9489 |
| Vista lot (1 machine) | 9485 |
| West Gate 1 & West Gate 2 (SW Crescent) | 9502 |
| Witter Lot 1 & Witter Lot 2 | 9496 |
| Cross Campus Rd | 9457 |
| Eshleman Road | 9468 |
| Frank Schlessinger Way | 9470 |
| Dwight Way | 9501 |
| Berkeley Art Museum and Pacific Film Archive | 9482 |
| UC Berkeley Extension | 9947 |
| Space Sciences Lab | 9477 |