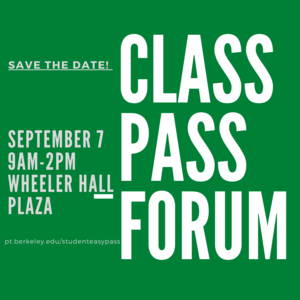 September is Transit Month! We're thrilled to be joining San Francisco Transit Riders (SFTR) and Seamless Bay Area's in various activities celebrating our city and region's public transit that we all know and ride. 
AC Transit Class Pass Forum - September 7th
We're thrilled to be hosting our AC Transit Class Pass Forum much earlier this year! Instead of an online forum, as we have been doing for the last two years, we want you to meet with both AC Transit and P&T Staff, in person, in the Fall, to discuss:
Multimodal Transit Connections
Using the Student EasyPass and Clipper BayPass
Amtrak and Flixbus
Stop Changes to the Northwest Campus due to the Gateway Project
Using Bikes on Buses
We'll meet at Wheeler Hall Plaza from 9am-2pm on Wednesday, September 7th! 
We're supporting this year's Transit Month because we believe that everyone in our city and region should have access to safe, affordable, accessible public transit. Public transit not only lowers the barrier to opportunities, combats climate change, connects people across our city, and more. If you'd like to learn more about transit month or join us for any of the many events, head over to SFTR's website to see a full calendar of events! 
Ride Contest - All September Long!
Don't miss out on the opportunity to win a slew of prizes during this year's Transit Month Ride contest!
Every ride is another entry into our Transit Month raffle! Enter for your chance to also win prizes for the most rides taken, the best transit picture, and the best transit story — there will be weekly prizes as well as ones for the whole month! Prizes include riding in a BART train cab, a Warriors jersey signed by Jordan Poole, a tour of the Central Subway, and more! Learn more and enter to win!
In celebration of BART's upcoming 50th anniversary on September 11, BART is offering a 50% discount for the entire month of September 2022.