Pay for transit passes via payroll deduction. UC Berkeley employees can sign up with WageWorks, a free service that enables employees to purchase transit passes and parking. It's quick and easy to sign up. Don't delay, start saving today!
Sign Up Instruction

:

The WageWorks website is at WageWorks.com.
UC BERKELEY NEW PARTICIPANT REGISTRATION:
1. From www.wageworks.com, click on "Log In/Register" then choose "Employee Registration"
2. Click "NEXT" after reviewing the steps to register for online access:
3. Fill in the required identity information.
Note: for the Home Zip Code field enter, "Your Home Zip Code"
Also note: for the ID Code field, use the last 4 digits of your UCB employee ID number.
4.Click "NEXT"
5. Once authenticated, provide your contact information, including your mailing address, and create a user name and password.
6. Accept the User Agreement and you will be taken to the Welcome Page
7. Once logged in, select the Commuter Tab
To Submit Parking Order:
1. On your dashboard, click on "Change or Cancel"

2. Click on "Place Commuter Order".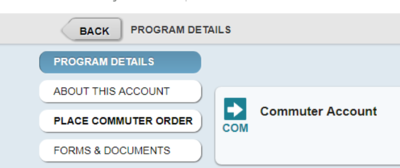 3. Select "Parking".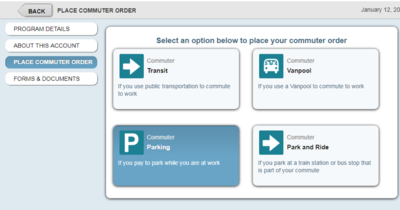 4. Click "Next"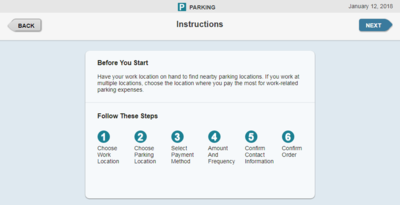 5. Click "Next" - DO NOT CHOOSE WORK LOCATION!  (see below image)  If you cannot bypass, choose 2150 Kittredge Street, Berkeley, CA.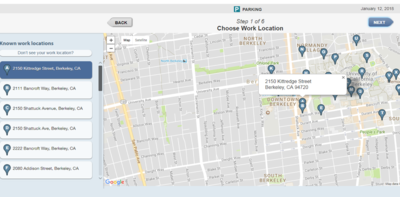 6. Select what parking permit you would like to order (options are A - G) from the scroll down menu located on the bottom left of screen.  DO NOT click on the map to make selection.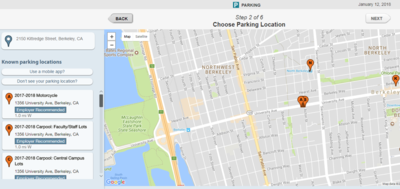 7. You will be provided the information shown below.  Click "Next".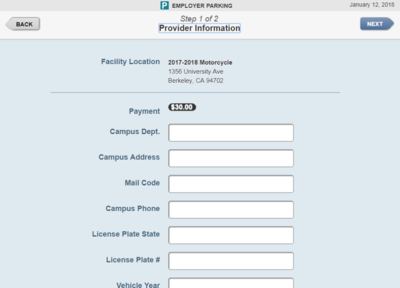 8. Last step.  Review your order and click "Submit Order".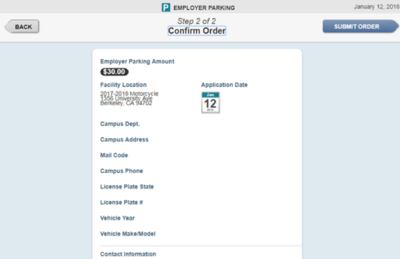 Please note:  
Once you submit your order you will come to the Parking and Transportation office located at 1995 University Ave, Suite 110 to pick up your permit. Prior to coming in you must create your parking account using this link My P&T Online. You will create your parking account, provide us with your information and add your vehicles.
You must submit your order by the 10th of the month to have an order for the following benefit month. When you come to the office you will pay a pro-rated amount upfront dependent on what your benefit month is.
If you need to cancel your permit you must physically return your permit along with a cancellation form to our office. To cancel for the current benefit month, you must cancel by the 10th of the month.
Any questions email prktrans@berkeley.edu
For Clipper Card (Easy Pass):
1. Select "AC Transit."
2. Select "Employer Pass."
3. Click "Next."
4. Confirm your mailing address and click "Next."
5. Confirm your order by clicking "Order."
Come to the P&T Office to have staff take a photo and to fill out the Release Form.  Your Easy Pass Card will be mailed within ten to fifteen days, once P&T staff processes your order.
For Parking Permit:
1. Select your desired permit type.
2. Enter the requested information and click "Next."
3. Confirm your mailing address and click "Next."
4. Confirm your order by clicking "Confirm."
Pick up permit from the Parking and Transportation office. The cost of your permit will be pro-rated depending on the benefit start date.