The Loop Golf Cart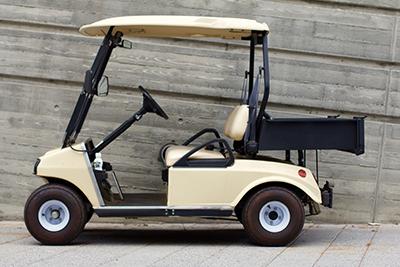 The Loop is a golfcart that provides intra-campus rides for eligible faculty, staff, and students with disabilities on a 
first-come, first-served basis. This service was created to assist persons with mobility difficulties. The Loop only operates on the core campus.
Apple iOS Download:      
Android Download:    
Pull up the RideCell mobile application to request a ride. With GPS integration, the RideCell mobile app can track your driver in real-time and inform you when your driver is 5 minutes away.
 How Do I Sign Up For The LOOP?  
Dowload the app using one of the links above.
Sign up using your valid @berkeley.edu email address (only valid @berkeley.edu accounts are authorized). 
Enter the 3-digit verification code that gets sent to your email account.
 Make A Request In 3 Simple Steps:  

Set your location, end location, and special requests or comments for your Loop driver.
Get matched instantly to a Loop driver and track them coming your way in real-time on a map and get an estimated time of arrival. You will receive text or call notifications when you're assigned to a driver, next to be picked up, and when the driver arrives at your Loop stop.
Track driver's location on the mobile app without stepping outside. You will receive a notification when the driver arrives at your location.
New Designated Stops!

For the convenience and safety of Loop drivers and riders.
Choose your pick-up location and watch for your designated Loop stop.
Download Loop Map.
To Request A Ride:
Easiest way is through the Mobile App.
Through our web request at loop.berkeley.edu.
Call 1-510-586-LOOP (5667).
Area of Service:
For buildings on the edge of campus, the campus perimeter shuttle is an option. The Loop service is bounded by these streets:
Oxford Street
Hearst Street
Gayley-Piedmont Road
Bancroft Avenue
---
FAQ's
How can I request a ride?
Dowload the free RideCell application on your iPhone(link is external)(link is external) or Android(link is external)(link is external) smartphone or request a ride by going online at loop.berkeley.edu(link is external)(link is external)
Input your pickup and drop-off locations and any special instructions for the driver. You will be contacted once your driver is on the way.
How do I know if I've been assigned to a driver?
You will be notified once you've been assigned to a driver (by call or SMS). You can also check out the web or app interfaces for real-time updates about your driver's location and your request status.
How long does it take for my driver to pick me up?
It depends on how busy the system is at any given time. The web and app interface will show you the average wait time of recent requests, which will give you a good idea of about how long it will take. Depending on how many requests are ahead of you, it could take between 5-20 minutes.
How will I know when my driver arrives if I don't have a smartphone?
You can set up SMS or phone notifications in your user profile online. Once these preferences are set, you will not need a smartphone to know when your driver has arrived. Instead, you will receive a basic call or SMS. You will be notified as long as the the number we have on file is correct. 
What is the quickest mode of request to get picked up?
Making a request online or through the smartphone app will instantly add you to the queue of requests. This means that your info is transmitted, and you will be assigned a driver right away.
Can I make a request for someone else to get picked up?
The service is reserved for your personal use. It is important to protect your user profile by making requests only for yourself.
How do I contact my driver?
You can call 510-586-5667 (LOOP) and then press "0" if you have important information to relay to your driver.
What if I need to cancel my ride request?
To be fair to other riders and your Loop driver, it is important to cancel your request if you no longer need a ride. You can instantly cancel online, through the smartphone app, or by calling 510-586-5667 (LOOP) and pressing "0".
Does canceling my request, and making another one, put me at the bottom of the request queue?
Yes. Every time you cancel and resubmit a request, the process starts all over again. Your request will be put at the end of the queue.
How do I give RideCell my feedback?
Be sure to share what you love or what improvements you'd like to see in the technology by sending RideCell  an email at support@ridecell.com(link sends e-mail)(link sends e-mail).